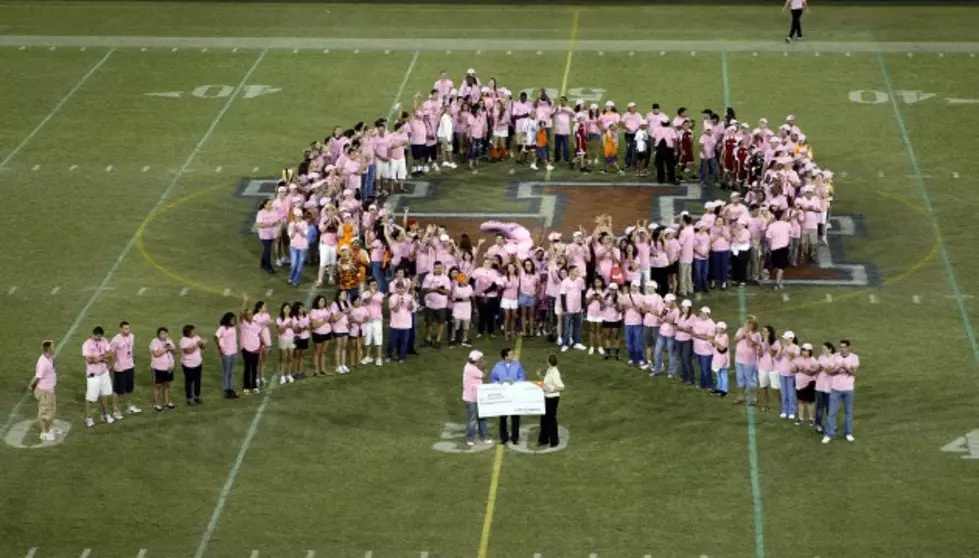 Colorado Mesa Athletics Host 'Breast Cancer Awareness Weekend'
Getty Images
In honor of October being Breast Cancer Awareness Month, Colorado Mesa University is hosting "Breast Cancer Awareness Weekend" with all athletic events this weekend.
CMU alum Kathy Howa's foundation "Swing for Life" is scheduled to be at both soccer matches on Friday accepting donations and selling pink items.
Also, Maverick players and staff will wear pink during soccer games on Friday, football game on Saturday afternoon, and volleyball game Saturday evening.
In a news release, Colorado Mesa officials say the teams will be selling and wearing pink jerseys and shirts in an effort to fundraise money and to raise awareness for breast cancer.
Here's the list of home games scheduled for this week's 'Breast Cancer Awareness Weekend':
Colorado Mesa men's soccer hosts #8 Regis University at 4:30 p.m. at Walker Field, 12TH Street and Orchard Avenue in Grand Junction
Colorado Mesa women's soccer will follow the men's game when the Lady Mavs host Colorado School of Mines at 7:00 p.m. at Walker Field, 12TH Street and Orchard Avenue in Grand Junction
This weekend marks only the second time this season that Colorado Mesa's volleyball team is scheduled to play at home. The Lady Mavs start the weekend off by playing Western New Mexico at 7:00 p.m. at Brownson Arena, 12TH Street and Orchard Avenue in Grand Junction
Colorado Mesa football takes on New Mexico Highlands at 1:00 p.m. at Stocker Stadium, 12TH Street and North Avenue in Grand Junction
Colorado Mesa volleyball hosts New Mexico Highlands at 5:00 p.m. at Brownson Arena, 12TH Street and Orchard Avenue in Grand Junction
Colorado Mesa men's soccer hosts University of Colorado-Colorado Springs at 12:00 p.m. at Walker Field, 12TH Street and Orchard Avenue in Grand Junction
Colorado Mesa women's soccer hosts Metro State at 2:30 p.m. at Walker Field, 12TH Street and Orchard Avenue in Grand Junction