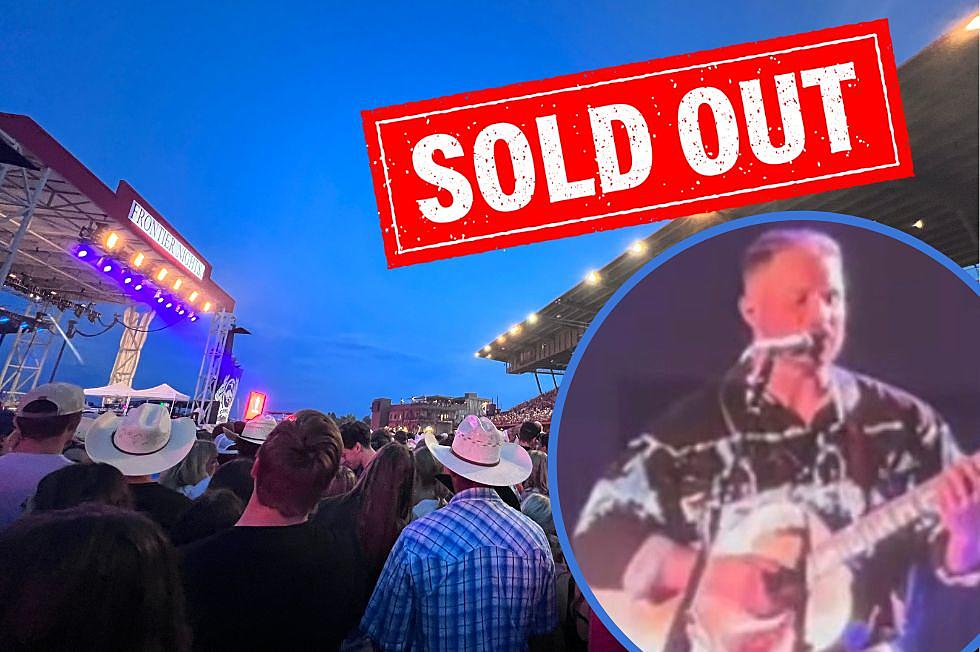 LOOK: Inside Zach Bryan's Sold Out Show at Cheyenne Frontier Days
Tanner Chambers/TSM, Canva
Zach Bryan is one of the fastest-rising artists in country music.
On July 23rd, Zach Bryan brought his "Burn, Burn, Burn" tour to Cheyenne Frontier Days. The concert was a sell-out, and the crowd was filled with fans who knew every word of his songs. Not only did fans know every single word, but they knew every note and inflection from his famous album, All My Homies Hate Ticketmaster, which was recorded at Red Rocks Amphitheater in 2022.
I have been to many concerts in my life, but I have never seen as much passion from a fanbase. 
My tickets were in the pit, in Party Zone 1. When concertgoers were waiting for doors to open, they were chanting Bryan's song "Open the Gate". This was an hour before doors opened. When fans got bored of singing the 3:54 song, they sang his other hits "Something in the Orange", "Condemned", and "Dawns".
THIS IS WHAT ZACH BRYAN'S SOLD-OUT SHOW LOOKED LIKE FROM THE PIT
It was packed.
ZACH BRYAN PERFORMS "SOMETHING IN THE ORANGE" AT CHEYENNE FRONTIER DAYS
"SNOW" IS ANOTHER CROWD FAVORITE
ZACH BRYAN WAS GIVEN A CHEYENNE FRONTIER DAYS BELT BUCKLE
THIS IS WHERE ZACH BRYAN WAS HANGING OUT BEFORE THE CONCERT
Zach Bryan wrapped up a phenomenal first weekend at Cheyenne Frontier Days. Eric Church headlined on Friday, and Old Dominion headlined on Saturday night.
THE REST OF THE PERFORMERS FOR THE CHEYENNE FRONTIER DAYS
July 26th - Five Finger Death Punch with Papa Roach
July 27th - Tim McGraw with Kip Moore
July 28th - Jon Pardi with Carly Pearce
July 29th - Cody Johnson with Whiskey Myers
Ticket and event information can be found at https://cfdrodeo.com/.
17+ Free & Frugal Cheyenne Frontier Days Activities
Who says Cheyenne Frontier Days has to break the bank? The Daddy of 'Em All is a community and cultural event with plenty of affordable AND free fun to be had for locals and out-of-towners. From delicious lunches to gunfights and pow-wows, Frontier Days has something for every budget-savvy visitor!
Check Out the 2023 Cheyenne Frontier Days Midway
The Cheyenne Frontier Days Carnival Midway offers refreshments, games, and rides to attendees.
More From ESPN Western Colorado