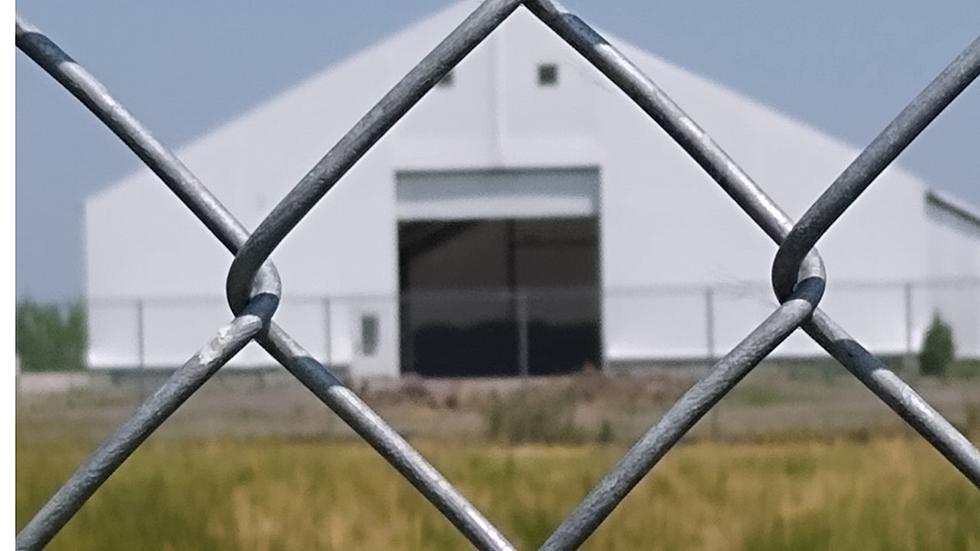 What's the Deal With Greeley's Big White Barn in Loveland?
TSM/Dave Jensen
In Loveland, to the north of Highway 34, and west of Boyd Lake Avenue, sits the giant white barn. Turns out, it belongs to the City of Greeley.
You can see this barn, north of Orthopedic & Spine Center of the Rockies, pretty easily as you drive westbound, as I do for example on my way home from work. It's just so big; it really stands out, and it doesn't look like a 'farming' barn, so I was very intrigued as to what that big, white barn is? So, I looked into it.
I reached out to my contact with the City of Loveland, who, once I described where the barn was, thought that it probably belonged to the Greeley & Loveland Irrigation Company, which manages water that's stored in Lake Loveland, belonging to rights holders in Greeley and Evans.
That whole situation comes up a lot when people see Lake Loveland being low on water. It only gets filled once a year in April/May, for use as irrigation water in the Greeley/Evans area. 'It is, what it is,' as they say.
I emailed Greeley & Loveland Irrigation Company (GLIC) about the barn. They quickly denied that it's theirs. So, I drove as close as could get my car to the barn, and the road does lead up to the GLIC's gate, but there's a fenceline dividing the two properties. More investigation was necessary.
I drove over to the east of the barn, by The Edge apartments. I found a dirt mountain bike trail that goes out and around Boyd Lake and walked that trail out to the barn. Though it's fenced up, I did find a sign:
'Ahh, It's a different Greeley thing,' I said out loud.
So, I reached out to Greeley Water and got the information I was looking for in regards to The Big White Barn.
What Is It?
It's a part of the Boyd Lake Water Treatment Plant, which treats drinking water that comes from Boyd Lake and Lake Loveland before going to Greeley. It's only in operation April through October every year, backing up the treatment plant that's in Bellvue.
What's Inside the Barn?
Actually, they call it a 'tent.' which has been on the property since 2012;  It stores dried treatment plant residuals, as the plant processes 12-14 million gallons of water every day.
How Big Is the Big White Barn?
The 'tent' is 80 feet wide, 160 feet long, about 40 feet tall.
So, the Big White Barn isn't a hangar for some 'Howard Hughes-Like' character to store his latest project, and it's not a top-secret nuclear facility, and if they hadn't painted it white, I might never have even noticed it.
'It's a Greeley Thing.'
It's a Loveland Thing: 7 Reasons to Stay Away From Loveland This Summer
LOOK: Here is the richest town in each state
Just saying the names of these towns immediately conjures up images of grand mansions, luxury cars, and ritzy restaurants. Read on to see which town in your home state took the title of the richest location and which place had the highest median income in the country. Who knows—your hometown might even be on this list.
More From ESPN Western Colorado