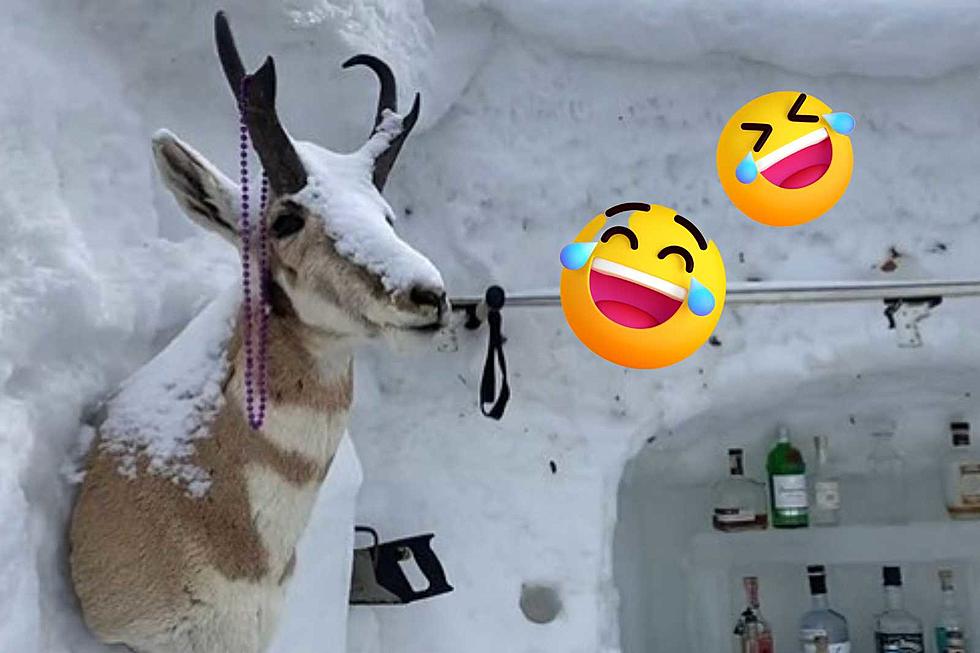 Ready for a 'Cold One?' Steamboat Man Creates Awesome Bar Out of Dumping of Snow
Twitter/@Spencer_WNews
When life gives you lemons, you make lemonade. When Mother Nature gives this man "a lot" of snow, he makes a personal bar. You have to appreciate his ingenuity.
The bar comes with seating, a fire pit, alcohol and even a slide. This is the kind of place all Coloradans would love to have in their own backyards; most of us will just have to settle for admiring from afar, however.
For the current 2022-2023 winter season, Steamboat, Colorado, has already seen the high-end of its average snowfall, with the rest of February and March still to come. They have gotten a "ton" of snow; so much so that the ski resort will be able to stay open an addition week this year. With all that snow around town, it's good to see someone putting it to some fun use.
HOW MUCH SNOW HAS STEAMBOAT GOTTEN?
According to CBSNews Colorado and Steamboat officials, you could take all the snow that they've gotten off the streets, and cover a football field, 35 feet high with snow. How did the first settlers of Steamboat ever deal with all that snow?
One way to deal with it, is to turn that snow into a "very cool" --err- "cold" bar. It must take a lot of effort to construct the igloo-without-a-roof bar, but it's not his first rodeo. The man has been building renditions of this bar for a few years. Not a bad hobby to have, really.
The "bar" has a walkway that takes you to the "roof," where you can not only have a seat, and look down into the bar, but you can also take a "ride." More on that, to come.
THE BAR
It's a little surprising to see, though there are many bottles, there's little liquor at the bar. That's alright, just a couple of shots is all you need to make it a party.
SPEAKING OF SHOTS
You'll notice a classic ski-resort "shot ski," an appropriate adornment above the bar.
WHO INVITED THIS GUY?
What igloo bar would be complete without a taxidermized animal on the wall? He's probably the mascot of the bar.
IT HAS A SLIDE
"What goes up, must come down." Once you've climbed to the "rooftop" of the bar, you can take the "quick exit."
You're Never Far Away From a Snow Tubing Hill In Colorado
Snow tubing is a great winter sport because it is so much fun and it's something that families can do together. Another cool thing about tubing is the fact you don't need to buy a bunch of expensive and special gear you're only going to use one time.
Here is a look at some of the snow tubing options you'll find throughout
Colorado
this winter. Hopefully, you can enjoy some great Colorado fun in the snow.
Colorado Towns Receiving the Most Annual Snow Fall
If you love snow, you'll want to move to one of these Colorado towns.
12 Incredible Snowmobile Tours Through the Snowiest Parts of Colorado
We're headed out into the great wide open this winter to check out some of the best spots for snowmobiling and snowmobiling tours in Colorado.
More From ESPN Western Colorado