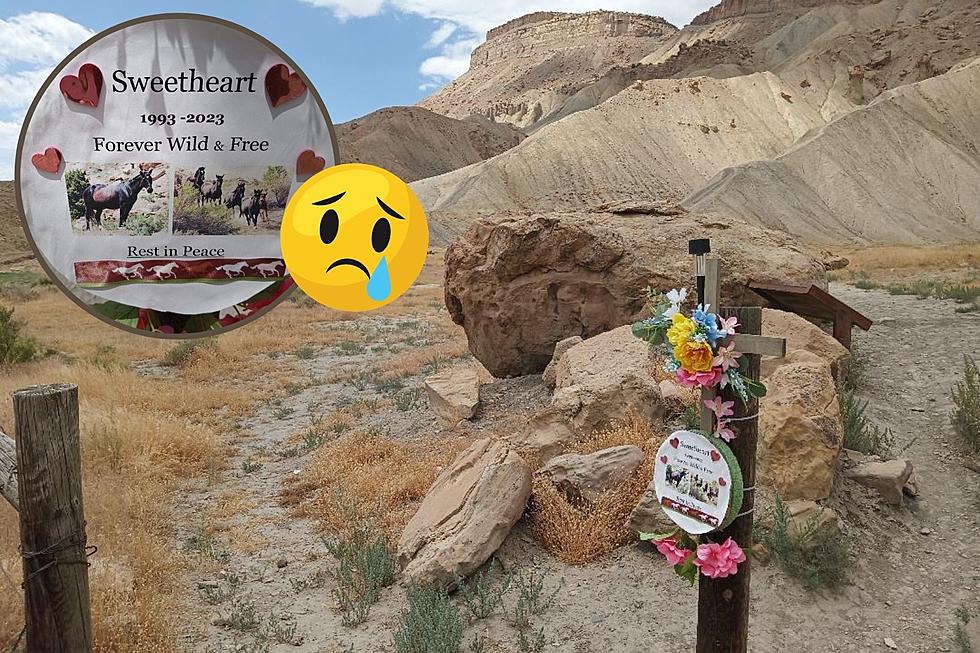 Paying Respects to Colorado's Famous + Beloved Wild Horse 'Sweetheart'
Waylon Jordan / Canva
After a long, and hopefully very happy life of 30 years, Western Colorado's famous, and much-loved "Sweetheart" has passed away. You'll find this tribute at the trailhead of Palisade's Mt. Garfield.
If you've ever hiked the Bookcliffs, or even driven I-70 through Palisade, you know who Sweetheart is. You probably saw her dozens of times. She may be gone, but many reminders can be found.
Sweetheart Passed Away In June
On June 15, 2023, Friends of the Mustangs posted on Facebook, "A goodbye to our dear mare Sweetheart. Sweetheart went to Mustang heaven this week, she was 30 years old this year, one of only three Mustangs that we know of who lived to 30 years old. She was a beautiful black mare with a heart-shaped star which is where she got her name."
Where Had You Seen Sweetheart
On some occasions, you'd see Sweetheart, typically in the company of her friend Boone, walking along the lower part of the Bookcliffs near the Mt. Garfield trailhead.
For those who hiked Mt. Garfield and the nearby trails, you'd frequently cross paths with Sweetheart and Boone at the first plateau, roughly 1/3 of the way up the east Mt. Garfield trail. Over the years, this was the site where I typically expected to cross paths with them.
From time to time, you could find them the next level up the Mt. Garfield trail, roughly 2/3rds of the way up. In my experience, they rarely gave any notice to passing hikers.
A Memorial To Sweetheart
On July 4, 2023, this tribute was posted at the entrance to the Mt. Garfield trailhead.
Given the recent 100-degree temperatures, the trail up Mt. Garfield isn't seeing a tremendous amount of use. As a matter of fact, it looks as though I was the only one dumb enough to make the hike on the 4th of July.
Is 30 Years a Long Lifespan For a Wild Horse?
It appears so. According to Horse Breed Pictures, The lifespan of a horse depends on its environment. The site states, "Wild horses live for about 15-16 years, which is considerably less than the average lifespan of domestic horses."
Events From the Year Sweetheart Was Born
According to Friends of the Mustangs, Sweetheart was born in 1993. Can you recall some of the major events of that year? Take a look back, and you'll find Sweetheart had an excellent run.
Major Events of 1993:
The Waco siege on the compound belonging to the Branch Davidians
NASA loses contact with the Mars Observer
STS-55 Space Shuttle Columbia carries the German Spacelab module into space
Kim Campbell becomes the first female Prime Minister of Canada
The Brady Bill is signed into law
NAFT, the North American Free Trade Agreement is signed into law by President Bill Clinton
Two former police officers are convicted of violating the civil rights of Rodney King
When looked at from this perspective, 30 years was a long time ago.
The next time you drive I-70 through Palisade, Colorado, give a wave to Sweetheart. Better yet, when the temps cool down a little, pay a visit to the trailhead at Mt. Garfield. For me, one of the most enjoyable parts of the hike was the hope of encountering Boone and Sweetheart along the trail.
Historic Photos of Colorado Horse Races + More
Please enjoy a number of Bob Grant photos from the Grand Valley's past. These came from a box labeled "Horse." Yep, that's it, the box was called "Horses." These were selected at random, covering a number of decades.
NEXT: Horse Ranch Airbnb Sits On Top of the Colorado National Monument
Check out these rustic cabins available on top of the Colorado National Monument via Airbnb.com. This affordable overnight is just 30 minutes from Grand Junction and offers an amazing view of the Monument you may have never seen before.
ONE MORE: Robert Grant Photos: Western Colorado Wildlife Part II
Grand Junction, Colorado photographer Robert Grant was a Western Colorado native. Over his five decades in photography he captured thousands of wildlife images. Below you'll find a gallery of images lifted from recently discovered negatives.
More From ESPN Western Colorado